Sharpen Your Knowledge with Nutanix (NCA-5.15) Certification Sample Questions
NCA-5.15
Nutanix Certified Associate Exam
www.certstime.com
CertsTime has provided you with a sample question set to elevate your knowledge about the Nutanix Certified Associate (NCA) 5.15 exam. With these updated sample questions, you can become quite familiar with the difficulty level and format of the real NCA-5.15 certification test. Try our sample Nutanix Certified Associate (NCA) 5.15 certification practice exam to get a feel for the real exam environment. Our sample practice exam gives you a sense of reality and an idea of the questions on the actual Nutanix Certified Associate certification exam.
Our sample questions are similar to the Real Nutanix NCA-5.15 exam questions. The premium Nutanix Certified Associate (NCA) 5.15 certification practice exam gives you a golden opportunity to evaluate and strengthen your preparation with real-time scenario-based questions. Plus, by practicing real-time scenario-based questions, you will run into a variety of challenges that will push you to enhance your knowledge and skills.
Nutanix NCA-5.15 Sample Questions:
Q1.
An organization runs several core business applications on a Nutanix cluster. System stability and support are critical for these applications, which has an annual maintenance window.
How can the administrator assure that these requirements are met?
Q2.
Which option allows administrators to specify groups of VMs and assign them to a destination for Disaster Recovery using Leap?
Q3.
Refer to the exhibit.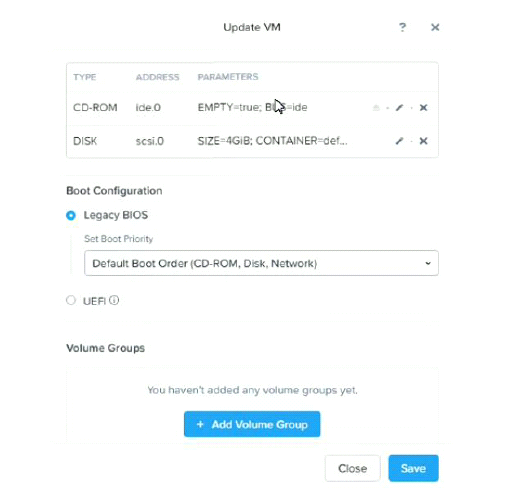 A team member has built a CentOS VM image for use as a template. An administrator deploys a new VM using the CentOS image as the 05 drive. No other drives are presented to the VM.
Following the deployment, the administrator attempts to boot the VM, but is unsuccessful.
What could be causing this issue?
Q4.
What should an administrator do after a Protection Domain is migrated?
Q5.
An administrator expanded the disk capacity on a Windows VM, but the VM operator saw no difference in free space. Which additional step must the administrator take?
Note: If there is any error in our Nutanix NCA-5.15 certification exam sample questions, please update us via email at support@certstime.com.